Sleigh Rides in Park City
Yes, you will find yourself humming " jingle Bells", everybody does. Then you'll be laughing, hugging each other and most of all...smiling. This is a great activity by itself or makes the perfect end to a great day exploring other adventures. Any way you look at it, the air is crisp, the blankets are warm and the horses are ready to start prancing. The sleigh rides take place in the beautiful rolling hills in the Swiss town of Midway; which is about a 30-minute drive.
FYI
**We are just the transportation company and not the sleigh ride company. If you just want to book sleigh rides with no transportation from Park City or other excursions, please contact the sleigh company directly: Rocky Mountain Outfitters Sleigh Company at 435-654-1655.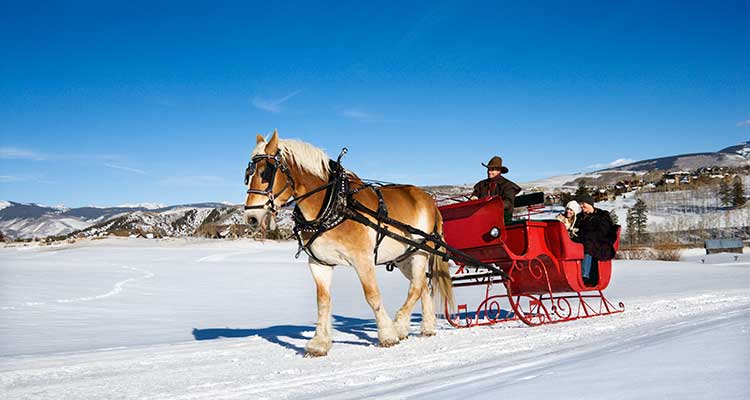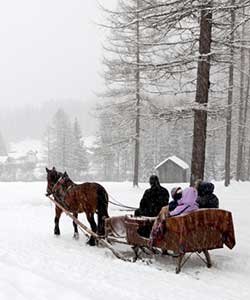 25 Minute Private Sleigh Ride
Deer and wildlife sightings are pretty much guaranteed on this 25 minute ride! The sleigh company has buggies, wagons, and sleighs to accommodate groups of all sizes.
We have several large sleighs and can accommodate large groups. Daytime Sleigh Rides are also available. Things to remember when making a buggy/sleigh ride reservation:
All rides are PRIVATE, this means only your party will be on a sleigh
Children 3 years old and under may ride at no cost and do not need a ticket
Warm wool blankets are provided in cold weather
Sleighs are used in place of buggies/wagons WEATHER PERMITTING. There is no guarantee that conditions will be suitable for a sleigh. If you have concerns about this, please contact our office prior to making a reservation
Please arrive 15 minutes prior to scheduled ride.
Book Online or Call Rocky Mountain Outfitters Directly
DetailsPrivate 2 Person Sleigh Ride: $100 per couple

Private Up to 6 person sleigh ride: $25 per person

Private 7 to 10 person sleigh: $25 per person

Private large sleigh seats 15 people: $250 per sleigh
Book Now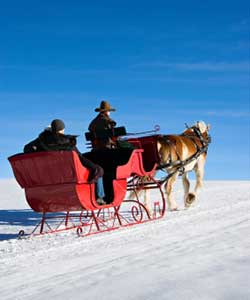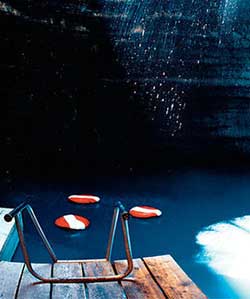 Sleigh Ride and Hot Springs Cave Excursion
We will pick you up in Park City and drive you to Midway for the sleigh ride. On the way, we will tell you local stories and fun jokes about the area. After the 25 minute sleigh ride, we will drive you to the homestead crater where you will enjoy a therapeutic soak in the famous hot spring cave. The cave has a natural spring with a diameter of about 40 feet and is 60 feet deep! There is a hot tub structure where you can sit and relax or you can grab a life jacket and float in the deep pool with the scuba divers. The temperature is about 91-94 degrees making it not too hot but not too cold. There are lockers and changing rooms in the cave and you are welcome to leave all unused extra gear with your driver in the car. After the soak, we will drive you to a local spot for dinner on your own.
DetailsRate: $140 per adult, $125 per kid (4 person minimum, 10% discount for more than 4 guests)

Rate includes: round trip transportation from Park City, 25 minute sleigh ride and admission to cave, waters, lunch/dinner stop, and driver.

Rate does not include: taxes, gratuities or cost of food for lunch/dinner.
Call 435-640-2907 to Book
Email to Book
Comparison Chart
| | | | |
| --- | --- | --- | --- |
| Activity Name | Activity Details | Length | Cost |
| 25 Minute Private Sleigh Ride | Incl: Private sleigh | .5 hrs | $100/couple w/ discounts for more |
| RT Transportation from Park City and Sleigh Ride | Incl: transportation from Park City, driver wait time, and 1.5 hours for dinner stop. Sleigh ride ticket not included but we can arrange for you. | 3 hrs | $299/ 1-4ppl |
| Sleigh Ride & Hot Springs Cave | Incl: round trip transportation from Park City, 25 minute sleigh ride and admission to cave, waters, lunch/dinner stop, and driver | 2-3 hrs | $140pp (4 min) |